Samantha Palmer
2007 Champion
Samantha lives in Melbourne with her husband and coach, Sensei Karl Palmer. As a secondary school teacher of maths and science, the end of 2007 was a busy time for her, as she juggled teaching duties with a commitment to compete in NAS and to simultaneously go for her 2nd Degree Black-belt in December.
With the hard work now behind her, she can laugh, "I was training four times a week, going to the gym, and writing reports for school," Samantha says. "After the Champion of Champions night, I had to go back to the hotel and write reports!"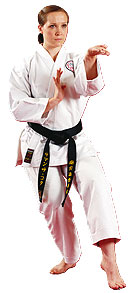 Her relentless schedule had taken its toll leading up to the tournament, as she came down with a chest and ear infection that almost threatened to end her chances. The doctors advised her not to fly to Sydney, but she decided to go anyway.
"My ears were very painful on the plane which affected my performance in the first day at NAS," she says. "I did badly in the open-weight and continuous sparring, and I was feeling upset. Then I spoke to my husband on the phone and he said, 'You've worked hard to get this far, focus on what you've still got to do, not what you've just done, and fight your fight'."
It was a turning point for Samantha. She had been focusing on her goal of winning the NAS Champion of Champions all year. Since the Nationals in 2006, when she had made it as far as the finals, she had visualised her victory and prepared for it.
"I was so determined, and I knew that I deserved it after training so hard for both the Nationals and my Nidan (2nd Dan) grading. I told a friend at the start of the night that I was going to win, that it was mine. I also visualised my fights and the outcomes of them, imagining myself winning by large margins, so that there would be no doubt in anyone's mind — or my own — that I deserved to win."
On the night, Samantha fought her nemesis, Lyndall Ricketts, in the heavyweight final. Despite not being able to hear properly because of her ear infection, Samantha claimed victory in what she saw as a pivotal bout. "We're both from Victoria and I fight her a lot. Usually she wins and is just ahead of me, but this time I visualised beating her. After I got through the heavyweight final I knew I'd won it; I was already smiling, I was so certain it was mine."
Did her finals opponent, Violetta Toth, stand a chance, then? Both women were from GKR Victoria, but Sam had never fought her in a tournament before. "Violetta is a close friend of mine. I had watched her previous fights and knew she was a very tough opponent, so I kept in mind her strengths (block and counter attacks, and kicks), and made sure that if I attacked, that it would have to be with combinations and that every technique would have to score. She is very quick, so if you fight her you have to be the quicker one."
Sam also changed strategy this year and tried to put into play some new tactics that were evolving under her state coach, Sensei Jason Knight. In the past, she was more defensive, "I would try to gain the lead then slack off, but this time I kept the pressure up all the way. I didn't worry about the score. My strategy was; don't hesitate, use combinations and keep my opponent guessing."
Sam's style comes predominantly from GKR karate, which she started ten years ago. She has also been influenced by three years of training in Loong Fu.
Photos